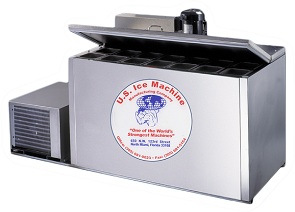 Block Ice Machine / US-0560B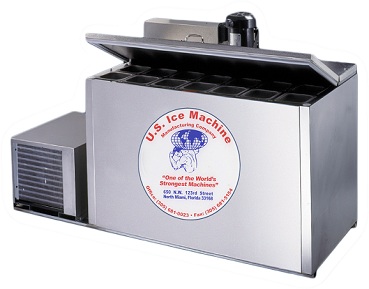 We Beat All Competitors Price!
US-0560B - Block Ice Machine
Block Ice Machine by U.S. Ice Machine Mfg Co.
Rated as one of the strongest ice machines in the world
Most efficient in electrical and water consumption.
Economical, rugged,and dependable.
All machines are completely constructed of heavy-duty 304 stainless steel cabinet interior and exterior, except for the compressors, motors, pumps, etc.
Multi-purpose models available to suit all of your needs.
Our super block ice machine is an industrial machine in a class by itself.
Salt Water Ice Machines: We manufacture all sizes of salt water ice machines for both land-based and marine-based applications.
Warranty: Unsurpassed in the industry. We offer a 10 year warranty on the evaporator.
All machines are tested and balanced for a minimum of 48 hours before being allowed to leave the factory.
Block Ice Machines: Built with features that give you confidence you've selected the best which includes; CFC-free, pre-charged cfc-free R404A, self-contained refrigeration system. Block Ice harvests up to every twelve hours.
Experienced factory trained billingual engineers available for instalation in any part of the world.
Material and product improvement is a constant commitment at U.S. Ice Machine. These specifications are subject to change without notice and without incurring responsibility for previously sold block ice mackers and components.
Custom-built units available: Contact our Sales Dept: (305) 681-0023 / (877) 681-6623