Cracked Ice Machine | U.S. Ice Machine Mfg Co.

The U.S. Ice Machine Manufacturing Co., manufacturers of cracked ice machines is the culmintaion of many years of experience and know-how. This has resulted in the production of one of the most reliable icemakers on the market today, which is top of the line, state of the art, and highly efficient in energy and water consumption. U.S. Ice Machine series machines are ideal for small and large capacity uses. These ice machines are designed for use in low ceiling buildings, where height is a problem. Small Ice Machines for trawlers, yatch, and avid fishermen are also avaialble, that can be adapted to run on salt-water application for icing down the fish.

Our Research and Development, and Engineering Departments and with our knowledge and experience, we have produced one of the best machines in the ice making industry. We use the highest quality 304 stainless steel in fabricating our machine, except for certain electrical components, motors, water pumps, compressors, tubing, etc. Our machines are very simple, developed especially for third world countries, where highly trained techniciansare scarce.

Cracked ice is superior to flaked ice in almost all apllications where quick melting is not desired. It is also easier to blow, vonvey, rake and bag any other form of ice. Cracked ice form U.S. Ice Machine series is typically high quality, hard ice, capable of maximum chilling power. Chills soft drinks and cocktails up to 45% faster than cubed ice, Ice thickness is adjustable from 1/16" to 5/8".

Cracked Ice: Smaller than cubes, cracked ice melts faster and adds more water to drinks. Usually this is used when making frozen drinks because cubes can clog blender blade and be inconsistent in the end. Two-thirds to one cup of cracked ice is perfect for a single frozen Daiquiri or Margarita. Typically bagged ice from the store is cracked.

U.S. Ice Machine Manufacturing Co. produces hard cracked ice ideal for seafood, poultry, vegetable processing and many more applications. The absence of the gear box assembly in this machine eliminates all the problems encountered in the flaked ice machines. Most parts are standard, with exception of our Stainless steel evaporator, which is manufactured especially by our craftsmen. Most of the electrical parts are readily available at refrigeration supply house in any part of the world. Our factory is full stocked with replacement parts, which can be shipped any-where in the world within 24 hours.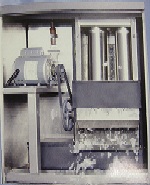 How our Cracked Ice is made?
U.S. Ice Maker produces ice on vertically mounted heavy gauged double wall 304 Stainless Steel evaporators. Our specially designed water distributing system circulates the cold water on the inner and outer surfaces of the evaporator. This process make is of 100% of the evaporator surface, resulting in maximum production and effiency. A pump circulates the ice making water from a stainless steel sump tank, where a float valve maintains the required level. Our heavy duty water pump sits outside the sump tank, which prevents it from rusting. We use only mag drive pumps on our ice machines, which can be be used with salt-water applications. This enables you to use sea-water to make ice, by changing a simple water distribution system to all Stainless Steel. Our electrical system is the simplest system using a timer, which easily adjustable to increase or decrease the thickness of the ice desired.

Parts & Services
Our machines have such a simple design, that even the owner operator will be able to fix them. Each unit is tested for a minimum of 48 hours and personally inspected by the President of the company, before it leaves the plant.

We offer unique services to our customers......
We offer our customers special training if desired, in our factory, for installation service and preventive maintenance, by our factory trained technicians.


We provide installation and service in any part of the world, if desired by the customer.


We train the buyer how to trouble shoot, in case he/she encounters any problems.


We have at your service a free courtesy limousine, to pickup you up from your hotel or airport, to visit our factory. We invite you to visit our manufacturing facility which is located conveniently on I-95.


We do all shipping, delivery and paper work to make your ice machine purchase a pleasant experience.


We manufacture ice machines of any desired voltage for different parts of the world.


We have a stock of small to medium sized ice machines ready for immediate shipment.


We have courteous multillingual staff to assists you with any of your needs.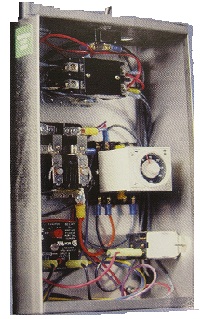 Cracked Ice Machine Standard Features.....
COMPRESSOR

Multi-cylinder, hermetic or semi-hermetic type Copland compressor
Scroll or discus compressor depending on different applications.

EVAPORATOR

Heavy duty 304 Stainless Steel tubing pressure tested for 350 p.s.i.
Evaporator casing completely insulated to prevent condensation
Suction accumulator with built in heat exchanger standard on all machines

AIR COOLED CONDENSER

Heavy duty construction for maximum heat transfer
Cooper tube aluminum finned coil
Heavy duty condernser fan motor designed for outdoor use
Dynamically balanced fan blades
Liquid receiver
Fan cycling controlled

WATER COOLED MACHINES

Heavy duty water cooled condenser
Water regulating valve for head pressure control

WATER PUMP

Heavy duty magnetic drive pump located outside the sump tank to prevent corroding and give maximum life
Float valve to supply constant water to the sump tank

CONTROLS

Low pressure cut-out
High pressure cut-out
Oil pressure safety control on large models
Timer easily adjustable
Power failure safety will automatically put the machine in defrost cycle when power returns

FRAME & PANELING

Welded heavy duty 304 stainless steel frame and stainless steel panels are standard on all our ice machines
Stainless steel front covers, easily removable

ELECTRICAL

Heavy duty timer
Ice level control

TESTING

All controls and expansion valves ae factory adjusted for optimum performace
Each unit is tested for maximum performance
NB:
Our machines are completely Stainless Steel. There are no options, except for certain parts such as compressor, pump, and control.