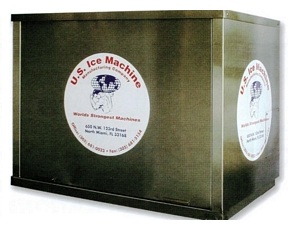 About Us | U.S. Ice Machine Mfg Co.
United States Ice Machine Manufacturing Company (USIMCO) was founded in 1967 by the late Robert Saltzman. He was one of the pioneers responsible for manufacturing different types of ice machines. His vision was to manufacture one of the strongest, most reliable, and least complicated ice machines in the world.

In 1970, the current owner joined the company as a production manager. During that time, Mr. Saltzman instilled in him the desire to create an ice machine where cost was not a factor, but the durability and efficiency of the unit was paramount. In 1998, Robert handed over the reins of the company, and the company is now set to become the most powerful industrial ice machine company in the United States. A promise was made to uphold Robert Saltzman's visions and standards in quality, integrity and value. That promise will not be broken. That is the beginning of U.S. Ice Machine Manufacturing.

The staff of U.S. Ice Machine Manufacturing. strive to ensure that the ice machines, which are among the world's strongest, withstand years of rigorous use. To keep us ahead of the competition, we are constantly working to improve the efficiency, ruggedness and reliability of our ice machines. U.S. Ice Machine Manufacturing is committed to providing ice machines that not only meet, but exceed industrial ice machine standards. For that purpose, we only use superior name brand parts in the manufacture of our ice machines. Constantly working to improve EFFICIENCY, RUGGEDNESS & RELIABILITY.

U.S. Ice Machines are designed to satisfy the widely varying needs of different industries. We manufacture 1-1/4 ton to 20 ton models, which can produce 2,500 to 40,000 lbs. of ice per day. We deliver rock-hard ice at just pennies a pound. We manufacture ice machines that produce cracked ice, cylinder ice, block ice, and flaked ice machines. We also manufacture marine-based salt water ice machines and ozonated ice.

Please feel free to visit us in person at our factory showroom in Miami, Florida. We will provide you with the perfect ice machine, no matter what your need. If one of our many stock models does not suit your needs, we will gladly work with you to custom-design a model that fulfills your requirements.