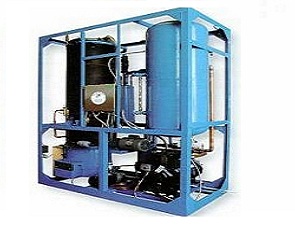 Tube Ice Machines | U.S. Ice Machine Mfg Co.
Our machine is manufactured from 1000 lbs to 12,000 lbs at the present time. This cylinder tube ice maker comes in the size of 1 1/8" to 1 1/4" in length. It is a crystal clear ice machine that is made with the same principle as or cracked ice machine, with the exception that water is injected into the inner tube only by our specially designed water distribuiting system. We have a strong, maintenance-free ice machine, which will revolutionize the industry. We have developed this ice machine to meet the needs of high volume users such as casinos, airlines, cruise-lines, packaged ice, and large nigthclubs. We do not offer any options for stainless steel, which is standard for all our ice machines, as we believe in giving only one kind of product, and that is a quality product. Since we are virgin in this market, we are offering the most competitive pricing in the industry. Please feel free to visit our plant at anytime to see this ice machine function. We have one of the most competitibe prices in the industry, saving you thousands of dollars and yet giving you a quality ice machine product. We offer the same services as our cracked ice machines.

The Tube Ice Machines have been developed to last between 30 to 40 years, as they are completely 304 Stainless steel. Our ice plants were dveloped for different needs, from 1,000 lbs. to 12,000lbs /24 hours. All units are factory tested for optimum performance for at least 48 hours. They are one of the simplest machines in the industry--a mechanic's paradise. We have designed these units such that the owner operator can maintain them. The heavy duty gear box used, helps to cut the ice to the desired size. The electrical control is a simple timer with no belts and whistles. Our factory-trained technicians are always there to help our customers in both English or Spanish.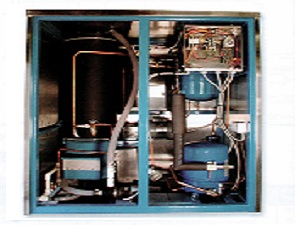 CAPACITY PER 24 HOURS ON 70 °F TEMPERATURE
| | |
| --- | --- |
| US 500 TI Round Ice Maker | US 1000 TI Round Ice Maker |
| R404A | R404A |
| 5,000 lbs | 10,000 lbs |
All units are remote air or water-cooled.
Available in 230/3/60 cycles
Available in 220/50 cycles
Special size ince machines made as per request
Capacity based on ambient air temperature of 70 degrees and water temperature of 50 degrees.
Production may vary on different installation.